E3 2019: Microsoft
Andrew Brooker, 1 year ago
8 min

read
Here we are, once again. We've all been excited for E3 2019 since about 13.5 seconds after the last live stream ended from the 2018 iteration of gaming's biggest annual event and boy are our hopes and our expectations sky high.
Two days of live-streamed conferences followed by three days of show floor extravaganza makes the Electronic Entertainment Expo not only the biggest and most exciting video games event of the year, but it can be the most exhausting. So for those that aren't able to ignore their body's cries for sleep, we are here to run down the big conferences for you. First up, Microsoft.
Microsoft has become the traditional opening show for the E3 conferences – we'll not talk about  EA Play, the Electronics Arts E3 show that isn't really an E3 show because the studio don't want to GO to the show, but they don't want to miss out on all that buzz – the Xbox platform holder have spent years setting the tone for the shows that follow. It's a massive responsibility and when it goes well, it's a wonder to behold; but when it goes wrong – like a certain home console announcement just a few years ago – it can be an absolute catastrophe.
Now, we enter 2019's E3 conferences with the stench of that reveal finally wafted away and the hint at new consoles coming, once again the onus is on Microsoft to deliver big. To excite viewers around the world. And most importantly, to not rest on their laurels now we are Playstation-less at E3. Can big Phil Spencer answer all the questions that Giles posed just a few days ago? Let's dig in and find out.
Where to start? Where to start?
Okay. Overall, once I'd stalled my hype, I'd give the show a solid B+. There's plenty here for everyone, but not enough of what I wanted when you got to the good stuff. So let's start with what was great, and I'll get to my gripes in a bit.
I reckon five big things jumped out for me. First, the big one. Project Scarlett. Microsoft's new Xbox model was kinda shown off tonight. Big boss Phil Spencer gave us the rundown of the stuff inside. At its core, Scarlett has a custom-built processor running the whole show. Co-designed with tech giant AMD and running top-of-the-line GDDR-6 memory under the hood; the guys and gals on the design team promise us "8k capability" and "upto 120 frames-per-second" and, of course, the current gaming buzzword, Ray tracing! Honestly, I looked it up to have a go at explaining it. Nope. It makes things look prettier than they would be without it. That's all I really need to know. The console will release day-and-date with Halo: Infinite, so we will get to see just how good ray tracing, and everything else on this tech list, can make games look. Microsoft say "4 times the power of the One X"; a big, bold statement.
This shiny new Xbox will have a focus on games (duh!), but games wherever you like. Using the power of Microsoft's Azure-powered XCloud and the newly announced Game Pass Ultimate, Big Philly Style and his team are going after Google's Stadia Hard. But with a Christmas 2020 release window, the Xbox will be a year later to market than Google's attempt so they need to be bringing it big. Tied with this announcement was the beautiful looking Elite Series 2 controller. Thoroughly redesigned and upgraded, the Series 2 is going to be the ultimate companion to any Xbox player – that's not marketing speak, that's from a player who can't live without his series 1 Elite controller.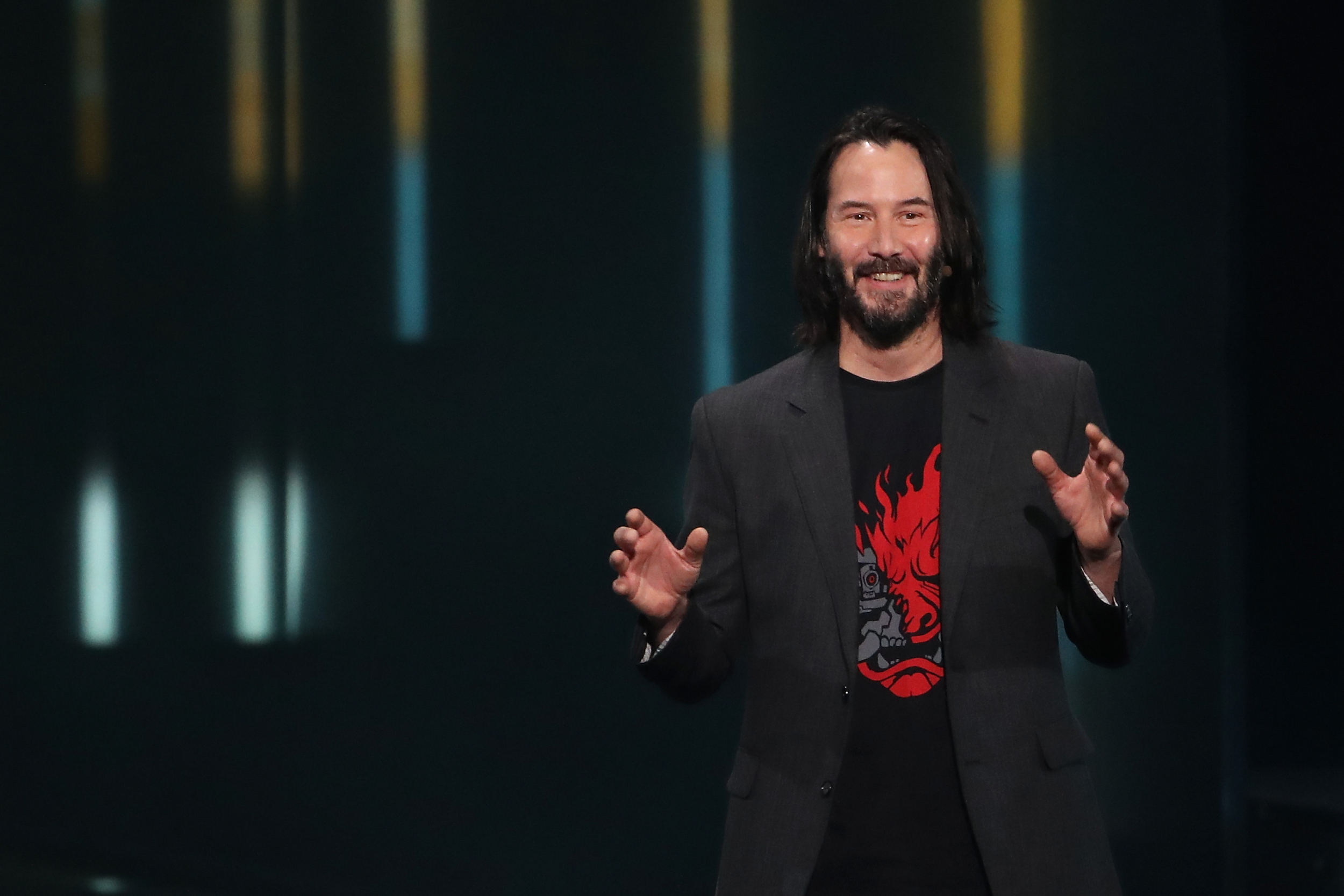 The final three things all fall into the same category. Games. Top of the list, Cyberpunk 2077. Creators CD Projeckt Red have managed to do the one thing that most developers get heat for; keep their game appearing at E3 year on year and not pissing everyone off. This year brought not only an April 16th release date – meaning less than a year before we get to jump into this gorgeous world – but they introduced a previously unseen character, played by John Wick himself; Keanu Reeves; who then came to give us the news of the release.
Usually, I get bored, annoyed and frustrated by people that can't just shut up and watch from the crowd at these things. here, I completely understand the auditorium full of people swooning at Mr. Reeves up there on stage.
Next, an out-of-nowhere horror game that took me completely by surprise. We got the world premiere (I think I counted those words uttered around 12 times) of The Blair Witch. Honestly, I thought we were getting a new Evil Within game and it took a while to click what it was, but once it did – even as a lukewarm at best fan of the films – I was psyched! Launching day-and-date on Game Pass, this looks like the big horror game for the future and I am very excited.
Last on my list, from what remains of Edith Finch publisher Anna Purna Interactive, is 12 Minutes. An interactive adventure centred on a man caught in a time loop and desperate to find a way out. This is the kind of game that is right up my street – and The Shining easter egg in the trailer sold me further. We don't know too much about it yet, but I'm on the edge of my seat, digital wallet in hand.
Of course over the hour and fourty-ish minutes of conference, there was a long list of announcements and teases and hints. Five pages worth of notes in my tiny chicken scratch handwriting filled with names and dates and questions and surprises and there was plenty for everyone. No new Forza Motorsport this year was kind of a big deal. We saw a fun looking Lego expansion for last year's Horizon 4, but nothing for the next sim iteration of the game. The main assumption would be that Microsoft are keeping it back for next year's Scarlett. There was Battle Toads, Dragon Ball Z, and a Wasteland 3 announcement inviting you to a post-apocalyptic Colorado to keep us going. Double Fine studios, the guys behind Psychonauts, are now a Microsoft Game studio – That's one hell of an acquisition and invites plenty of questions for fan favourites like Brutal Legend.
We got official word of Game Pass – Xbox's Netflix for games – coming to PC. This will no doubt form a part of the future that Scarlett will usher in, a true "Play Anywhere" platform. With the announcement cane a load of new PC based announcements like Age of Empires 2: Definitive Edition which comes with a whole new story added into it. Along with a handful of "Available on Game Pass right NOW!" announcements, including Metro Exodus and Borderlands: The Handsome Collection (that also has a new add-on that prepares you for Borderlands 3) – it was a good nght for Game Pass
Lego Star Wars: The Skywalker Saga; all nine movies in one game; saw a fun announcement minus a release date. We also got to see a little of Respawn's Jedi: Fallen Order – previously shown in full at EA Play the evening before.
Other highlights saw Phantasy Star Online 2 coming to Xbox, story finally coming to State of Decay 2, a load of interesting looking ID @ Xbox titles that'll all come to Game Pass on release.
Sadly, that brings us to my complaints. I've only a couple, but I do think they are big ones.
First, that Project Scarlett announcement. If I had muted it, I could have easily been watching the One, or One X trailers. Talking heads, promising stuff that they are going to have to work hard to deliver doesn't get me excited. Neither, frankly, does reading a tech spec on stage. I'm not daft, I know we have another year and another E3 before it releases, but I want – no, I NEED – to see the box. And Xbox needs to show it off, gauge response and have time to fix glaring issues that only the real world can see. I'm not mad, Phil, I'm just disappointed. Come on, how many computer rendered shots of green and silver microchips do you think we need to see?
Finally, Gears 5 (Not Gears of War 5). Slated for release in just three months and looking absolutely stunning, we saw zero, ZERO campaign gameplay. Reps from The Coalition stood on stage and told us that they were going to do big things with Gears now they had earned our trust with 4, but Gears is about the story, guys, show us gameplay. ANY gameplay would have been better than none. But as a new game mode was announced – Escape, which looked like Horde mode in reverse – all we got was a pre-rendered trailer. More time was spent talking about the incoming technical and beta tests than the game and its release which, is just a little bit sad.
Overall, Microsoft did an amazing job. But some big oversights and minor gripes drop it from perfect for me. They certainly came out big and had plenty to say even without other platform holders to compete with this year – which was exactly what we all wanted. But guys… Sandwiching a lacklustre Gears 5 announcement in the middle of nowhere. Sacrilege.
Related Posts